Cresta users with at least Manager-level permissions can create a support ticket from Director.
Log into Cresta Director. Need help? View the support article here.
Select Support from the Director menu.
The Cresta Support widget will open and provide you with some recommended articles.
To create a support ticket, select Get in touch.
Next, select Leave a message.
Select Report an Issue: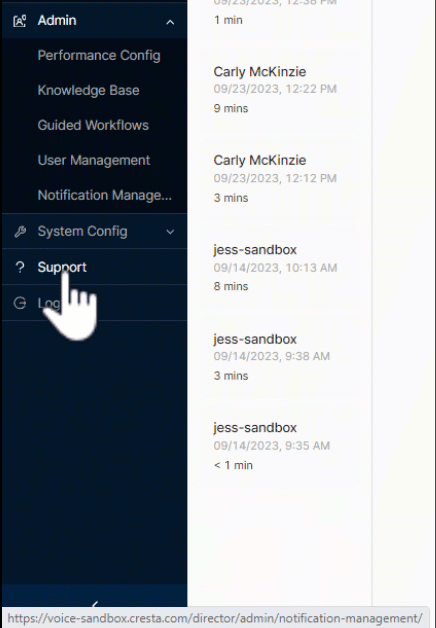 Now, provide the following details:

Requester details: Enter your name and email address (this is where you'll receive responses from our team).
Product: Choose the appropriate Cresta product you are experiencing issues with. Select either Chat, Voice, Director, or Chatbot.
Subject: Please provide a brief of the issue.
Ticket Priority: Please select the appropriate severity of the issue you're reporting. Select either P0, P1, P2, or P3 to help describe the level of impact.
Impact: How widespread is the issue? Choose from single, multiple, all users
Description: Please include as many details as possible, such as replication steps, usernames, chat/call IDs, timestamps, etc.
Attachments: Screenshots and videos are extremely helpful for providing additional and clear context!

Finally, select Send.
Learn more: